---
Awards and Applications




The Kurt Giessler Foundation for Youth Achievement will provide financial grants to individuals aged 12 through 20 for self-directed educational projects which benefit the community and themselves.



Kurt Giessler and former student Matt Murphy at
Hanover High School in June 2010.
Ambition Grant


The Kurt Giessler Foundation for Youth Achievement's Ambition Grant is designed to fund proposed endeavors by individuals, aged twelve through twenty, that are inventive, entrepreneurial, charitable, or explorative, and are unrelated to school or athletic activities. Funding will not be granted for travel or training/tuition expenses.

Applicants should answer two questions in essay form:

How will this initiative benefit you as an individual?
How will this initiative benefit society?

Applicants should provide a description of the project, a realistic time frame, and a detailed inventory of all expenses.

Prize for Achievement


This award is given to individuals from age twelve to twenty who have successfully completed or are currently operating an endeavor.

A letter of nomination should be sent by an unrelated adult to the judging committee describing the impact the endeavor has made and the challenges the nominee faced during its creation. Achievements that are athletic in nature or related to school grading will not be considered.

Prior recipients of the Ambition Grant with exceptional results may be considered.

---
2017 Award Recipients - $11,455!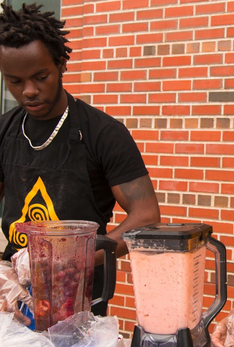 Dashawn Peterson, $1,700
"Balance By Day"

Dashawn, 21, is quite passionate about providing awareness of nutrition and helping people to adopt healthier lifestyles. Growing up in East Harlem, New York, Dashawn noticed that there was, and still is, little access to healthy food. Seeing an opportunity to combine a positive vision for change with a solid business model, he founded 'Balance By Day,' which provides healthy juice drinks and smoothies as well as nutritional education to its customers.
The Foundation awarded Dashawn $1,700 to help him obtain water filtration equipment, commercial-grade juicers, and marketing materials for his startup venture. The benefit that Balance By Day will bring to the community was immediately apparent in his application.
Dashawn is pursuing his degree in Psychology with a minor in Entrepreneurship at Siena College in New York. In April 2017, Dashawn was able to provide official Balance By Day drinks to his fellow students at Siena's homecoming event, surely the first of many successful events.
His main goal is to become a certified vendor on Siena's campus so that he can employ students, becoming an example of a student-owned and student-run business that could potentially inspire others to pursue their entrepreneurial ideas. He also intends to expand to providing bottles juices to supermarkets in his home of East Harlem, and plans to have a presence at several farmer's markets in the near future.
​
---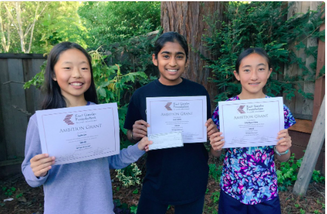 Lauren Lee, Trisha Sathish, & Emily Takara, $800 Ambition Grant
"DIY Paper Microscopes"
This very impressive trio of middle schoolers in Cupertino, CA will be conducting Do-It-Yourself Paper Microscope workshops for upper elementary school and fellow middle school students at a nearby nature preserve throughout the Summer of 2017.
The Foundation is proud to fund this creative endeavor as it marks our first Ambition Grant to individuals who are on the younger end of our intended age group. Their abilities to lead and educate peers were readily apparent in their glowing letters of recommendation. The girls were all finalists in NASA's future Engineer Challenges each year since 2014, with Emily winning first place twice. The trio even started a Makerspace club in 2016 and teach 3D printing and CAD to other students once a week after school.
The group's budget proposal was particularly well thought out and detailed. The microscopes will be made from low-cost materials including index cards and plexiglass spheres. Lauren, Trisha, and Emily have also developed lesson plans to help augment the workshops with curriculum about microscopes and the hidden natural wonders they can unveil.
Instead of constraining their participants to a predetermined microscope design, the workshop is intended to be far more open-ended. The girls intend on providing general guidance and help, but participants will mostly be free to design their microscopes themselves. These workshops will not only introduce their students to the engineering design process, they will also be able to connect with nature by using their microscopes afterwards on-site at the nature park. The group plans on collaborating with
McClellan Ranch Preserve in Cupertino, CA
as a location for these workshops.
---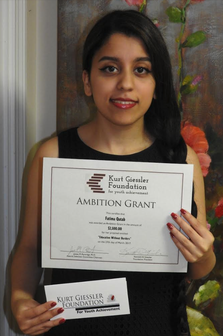 Fatima Qutab, $2,500 Ambition Grant
"Education Without Borders"

Fatima Qutab is a highly motivated 18 year old from Rutland, MA. Some years ago she visited her extended family in Pakistan and met several impoverished children her grandmother was caring for at the time. The children seemed embarrassed because they couldn't communicate with Fatima. They often stared blankly at the television when programs were broadcast in English, thus preventing them from enjoying and learning from it.
"I could not take my mind off those children. I wanted to break the communication barrier between us. I wanted to teach them English." Fatima wrote in her Ambition Grant application.
Over the next few years Fatima established a system for teaching English to underprivileged children in Pakistan via skype. She started by teaching 4 students how to speak, read, and write short sentences, and has since grown her class size to 10 students and counting. Fatima hopes to continue to expand the scope of this project to help poor children across the world.
"They were thrilled every time I taught them new words." she said, "I have not only taught them, but they have taught me to appreciate the privileges I have."
Unfortunately Fatima reported that she experiences connection problems with her existing setup, with her video calls freezing frequently. Their Skype sessions also suffer from an overall poor signal quality. The equipment and internet upgrades she's able to make as a result of the Ambition Grant should make for a more reliable and fully functional remote classroom environment for her and her students.
Specifically, Fatima's Ambition Grant of $2,500 will cover the cost of new laptops, speakers, and webcams for both sides of the conferencing. The grant will cover a Skype subscription and internet services for at least one year. She will also be able to purchase new teaching materials including a whiteboard for herself and notebooks for the children. With this improved setup, Fatima's students will be well on their way to reading, writing, and speaking English good fluently.
---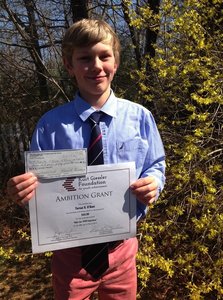 Tiernan O'Kane, $455 Ambition Grant
"Kids Can: STEM Experience" -- Tiernan's Grant Report
​Tiernan has planned a set of STEM-related activities to show that anyone, even a kid, can make a difference. He intends to teach four weekly classes in Sandwich, MA throughout the summer of 2017 to ten children grades 3-5. His goal is to repeatedly demonstrate the positive impact technology can have on society. Each of his four classes will focus on a particular STEM topic and how each concept can improve the lives of others. The four topics include: microfinance, windmill engineering, water well construction, and environmental protection.
"These four classes present a unique opportunity to young students interested in STEM." Tiernan wrote in his grant application, "This is also an opportunity for me to experience being in the teacher's shoes and pass on knowledge that I have learned."
The Foundation was impressed with how much thought Tiernan had put into the planning and budgeting of each of the four topics. Each topic is paired with a STEM-related book with plans for related discussions, activities, and builds. The books will also introduce the students to several cultures.
The microfinance topic, for example, will feature $25 KIVA.org cards to each of the ten students (also provided by the Foundation's Ambition Grant). KIVA is a microfinance website which provides small loans primarily to third world countries for small-scale engineering, farming, and startup projects. Tiernan's students will be able to invest in projects they deem worthy of funding on a global scale. As those loans are paid back, the kids will be able to reinvest in other projects repeatedly, driving home the lesson well after the summer sessions have ended.
---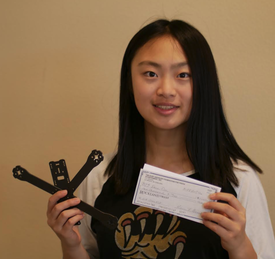 Sara Du, $1,000 Ambition Grant
"DIY Drone Kit"

The high price tags of drones make them relatively inaccessible to teachers and students as a learning tool for engineering. Sara Du is seeking to change that. She's building four to five low-cost prototypes with her Ambition Grant and will test them for flight-readiness, durability, ease of assembly, and of course enjoyability. The end goal is to provide a kit and conduct workshops with other students where they can build and fly them.
"Accessible hardware DIY kits are rare, and fun ones are even rarer." Sara told the Foundation in her proposal, "I hope that my building one will lead to more people embracing the field of engineering as a passion and possible career path!"
Sara's also taking this opportunity to become a better engineer. Prior to this project she's been mostly software-oriented, but now she's looking forward to enhance her electrical engineering skills by hands-on development and testing of her own electronics packages for the drones.
Sara is no stranger to teaching science and technology to younger students. In fact, she earned a Presidential Service Award for introducing young children to STEM through her work with the Orange County Discovery Cube. She developed an app for the Department of Health and is also a member of "Systers," an open source coding community. Sara also competes in and has won several coding contests, called hackathons.
---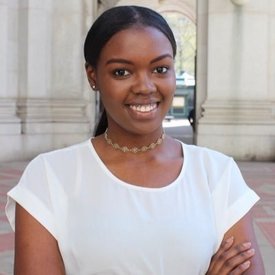 Sasha Alston, $2,000 Prize for Achievement
"Tremendous Leadership Efforts to Raise Awareness in S.T.E.M."

Sasha, 19, from Washington, DC, received the Foundation's other award, the Prize for Achievement for her multi-faceted work in raising STEM awareness, particularly to women of color. To say her list of accomplishments is impressive would be an understatement. Her resume reads like that of someone far older with a consistent pattern of community involvement and achievements.
For starters, Sasha drafted a bill to implement after-school STEM programming in DC Public Schools while she was still in high school. As of early 2017 she's completed six internships at various mentoring outfits, Microsoft, the National Academy Foundation, and the US Department of Commerce to name a few. Sasha's a current member of Hear Me Code and a volunteer for both Brain Food Inc. and Black Girls Code. She also wrote a children's chapter book titled "Sasha Tech Savvy Loves to Code" to encourage girls to learn how to program. The book also addresses the lack of diversity in STEM related industries.
Sasha was nominated for the Prize for Achievement by Autumn Banks, program manager for the CIO at the International Trade Administration (ITA). The two met when Sasha was an intern there two years ago. Autumn summarized her glowing nomination with this:
"Sasha has very clear intentions as to how she wants to give back to the world. From her experience, she has noticed that there aren't enough role models or mentors in STEM and she wants to be at the forefront of this movement… To find and embrace a purpose with great significance at such an early age is rare and should be celebrated."
We couldn't help but agree. The Foundation's Prize for Achievement exists for this very purpose. No doubt Sasha will continue to accomplish many great deeds, but what's truly spectacular about her is that she'll inspire others to do the same as well. For that, we gladly recognize her.
---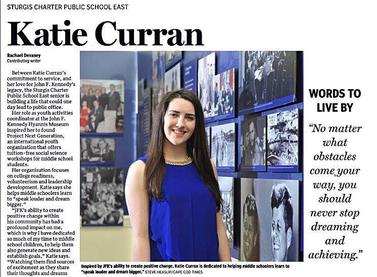 Katie Curran, $1,000 Ambition Grant
"Let's Make College Affordable!
Scholarship & Application Support"

Katie, a freshman at Columbia University, noticed a lack of unbiased information when she was searching for suitable colleges, and saw an opportunity to change that for other prospective students.
"I noticed that there were limited free and low-cost resources for first-generation college students and students who were seeking to attend highly competitive four-year universities." Katie wrote in her Ambition Grant letter of intent, "I wanted to fill this gap in the market. I could not afford to travel to campuses out of a state often and I couldn't find very detailed tours online."
She then decided to make an online college tour video series. As of her Ambition Grant application date her videos had reached over 51,000 students. Her goal is to reach 100,000 students by the second quarter of 2018. Her Ambition Grant will help her upgrade her editing software, camera, web hosting, and marketing. Katie also plans to make college readiness kits for students and distribute them during the summer at the John F. Kennedy Hyannis Museum at tuition-free educational workshops for youths which she'll be conducting. These workshops will focus on the application process, financial aid, and how to submit winning college scholarship applications.
"Not enough students know that they can afford to attend a four-year competitive university. This program will provide students with insight into how they can finance their education and avoid loans."
You might remember Katie as a former Prize for Achievement recipient in 2015. She was awarded by the Foundation for creating her organization "Project Next Generation" among other accomplishments. We have no doubt she'll continue to do well at Columbia and pave the way for many others to maximize their college experience while minimizing their debt!
---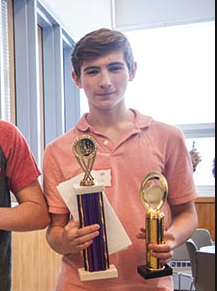 Curtis Fisher, $2,000 Prize for Achievement
"Outstanding Science and Engineering Efforts"

Curtis was nominated by Dr. Natalie Munn, a chemistry teacher at Martha's Vineyard High School and the Coach/Mentor for the school's MVironment Club. She chose to nominate Curtis for his inspirational leadership role within in the MVironment Club along with his technical accomplishment of developing a prototype oxygen sensor for remote but continuous pond water quality testing.
Curtis used his programming and engineering experience to create an accurate sensor that would not only survive the harsh marine environment but also reliably transmit its dissolved oxygen level measurements so it could be accessed via the web. This was a key component in the MVironment Club's phragmite biomass project, which set to remove phragmites (invasive perennial grasses) from ponds as a source of biomass fuel while also monitoring the impact to pond health afterwards.
The resultant science fair project earned Curtis and his project partner 1st, 2nd, and 3rd place awards at the local, regional, and state level respectively. The project was chosen by the Massachusetts Executive Office of Energy and Environmental Affairs for a Secretary's Award for Excellence. The group was also selected nationally as the top Outstanding Energy Engineering and Design Project by the National Energy Education Development Project's Youth Leadership Awards program.
As with our previous Prize for Achievement winners, Curtis has taken a multi-faceted approach to his education. In addition to his regular schooling and work within the MVironment Club, he completed an independent study on computer science during the Spring semester of 2017. He's also taken online computer science and data management classes from Harvard and MIT.
Furthermore, Curtis puts his knowledge into practice by serving as web developer and system administrator for several websites. He is also a co-leader of a student group building a STEAM showcase website for his school this Spring. Last but not least, Curtis and his brother run an educational channel on YouTube for technology and information systems.

Like all of our well-accomplished recipients, how does Curtis find the time?! Impressive!

---
---
2016 Award Recipients - $7,000!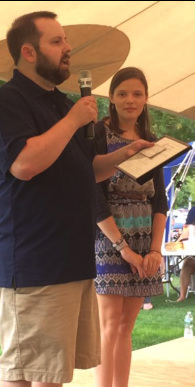 Julia Dougherty - Prize for Achievement - $2,000
"The Bernadette Project"


Julia Dougherty, 18, received a $2,000 Prize for Achievement for her charitable efforts of collecting toys for Boston Children's Hospital. Julia started the Bernadette Project to honor her friend's memory who suffered from heart ailments since birth. Julia's goal was to collect 2,016 toys this year and she broke the goal with collecting 2,200 items.The toys and items which Julia collects is given to the hospital where Bernadette was treated. Toys, games, and other items are used as positive distractions prior to the children's medical procedures and to reduce boredom during lengthy hospital visits. Boston's Channel 7 (WHDH) featured Julia and recognized her with the "Class Act" award. She was nominated by Brenda Geary who wrote passionately about Julia and the work she does to bring smiles to children and inspire the community.

---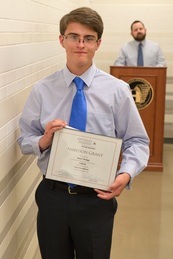 Avery Persinger - Ambition Grant - $1,000
"Coastal Erosion Monitoring"

Avery Persinger, 16 from Falmouth, MA, was awarded an Ambition Grant. Avery intends to build a Quad-copter aerial drone with a Go-Pro camera to take video footage of coastlines on the Cape before and after storms to monitor coastal erosion. One part of his application that impressed us was his pursuit to build his drone from scratch as opposed to buying a kit. Avery intends to share his data with WHOI and NOAA.


---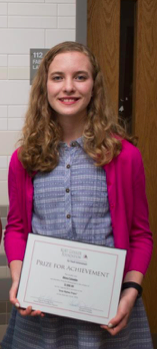 Olivia Colombo - Prize for Achievement - $2,000
"Green Highway Project"

Olivia Colombo, 15 from Kingston, MA, received a $2,000 Prize for Achievement for her Green Highway Project. She was nominated by her teacher Gregory Morehouse at Sacred Heart High School. Olivia has been developing her idea to turn highway road surfaces into renewable energy sources. Her harvesting system incorporates thermocouples and spring electromagnets. She's already accomplished the first phase of her idea and is now seeking to expand upon it by building a full-scale prototype. Olivia also applied for a patent.


---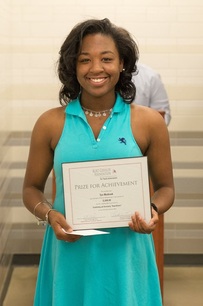 Tyra Westbrook - Prize for Achievement - $2,000
"Keep Balance"

Tyra Westbrook, 17 from Boston, MA, received a $2,000 Prize for Achievement. She was nominated by Camp Harbor View Executive Director Greg Stoddard and Leadership-in-Training Program Director Al Simpson (also from Camp Harbor View). Tyra founded the non-profit organization "Keep Balance" which works to alleviate hunger in low income communities. Not many people think twice about the wasting of food at large events, camps, and corporate/organizational meetings. But Tyra noticed unopened food items at Camp Harbor View and decided to collect and deliver them to the Eastern Service Workers Association (ESWA). Keep Balance developed from there.
Tyra intends to expand the reach of Keep Balance's collection and redistribution efforts this summer by creating more alliances with local vendors to alleviate hunger in her community.


---
---
2015 Award Recipients - $7,600!
Kevin Johnson – Ambition Grant - $2,100
"LightMate: An Advanced Wireless Theatrical Light Control System"

When attending a theater production, the visual effects and lighting is essential to set the mood and emotion of the story. Those behind the scenes understand the complexity and high costs of running these types of systems. Kevin Johnson, 18, from Plymouth, developed LightMate, an advanced wireless theatrical light control system, which is portable and affordable. He's identified a real market niche where a simple turnkey device like his can be an adequate substitute for very expensive high-end lighting control equipment. Kevin has already proven his idea works with his prototype, and has plans for improvements.

Due to his entrepreneurial spirit, engineering prowess, and well-defined proposal, the Foundation has awarded Kevin $2,100 to begin production on the initial LightMate units to be sold.

---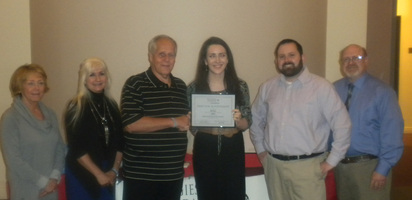 Katie Curran – Prize for Achievement - $1,000
"Project Next Generation"

The Prize for Achievement recognizes individuals who are already making an impact on their community, such as Pocasset resident Katie Curran. Her nomination letter stated, "At age 15, Katie Curran founded Project Next Generation (ProjectNextGeneration.com), a volunteer and leadership educational organization to inspire the rising generation of young leaders to be actively involved in their community." Katie is trying to instill leadership and communication skills in youth and young adults. For example, one of her middle school events helped adolescents to become more aware of both their local and global communities.

The Foundation is inspired by Katie's dedication and passion to improve the community and has awarded her a $1,000 Prize for Achievement.

---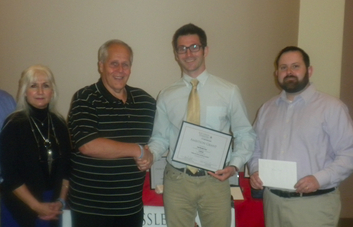 Liam Cross – Ambition Grant - $2,500
"3D Printed Prosthetic Hand: Collaborative Efforts and
Collective Creativity"

This year we received various submissions when it comes to research, design, and making for the greater good. Liam Cross, 21, from Falmouth, is really taking a "hands-on" approach to his research and development. He plans to study existing anatomical models and his own hand to replicate those components and develop a physical 3D model using the latest in desktop 3D modeling software and printing capabilities. He will also share his research and designs with the global community, to foster continuous improvement.

After reviewing Liam's application, the Foundation awarded him $2,500 towards the purchase of a 3D printer with a request to engage an individual who is in need of a prosthetic device.

---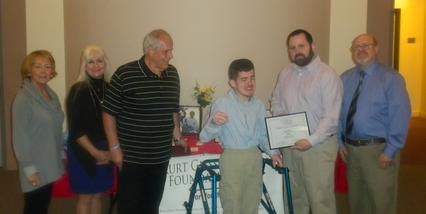 John Shea – Ambition Grant - $2,000
Mobile Hotdog Cart Business

When we hear the word "business", we most likely will think of "money" and "profits". Eventually we will get to words like "people", "services", and "value". During this award period, we received a proposal from John Shea, with support from his family, to start a concession-style business. This business proposal caught us less as a "business" but as an opportunity to do so much more not only for John, but also for a community of people.

John, a 21-year-old Halifax resident, is visually impaired, has Cerebral Palsy and is surrounded by a supportive family. Through the creation of a Mobile Hotdog stand, John hopes to bring food and drink services to locations where often there are no concessions to event attendees and supportive fans. The stand will also hire many of John's peers to provide them meaningful work, opportunities to interact, and of course make some money.

Due to John's entrepreneurial spirit and his vision to help the community, the Foundation has awarded John $2,000 to help launch his idea.

---
---
2014 Award Recipients - $4,645!
Devon Bray - Yarmouth, ME

Attends Worcester Polytechnic Institute in Worcester, MA studying Electrical & Computer Engineering.

Ambition grant submission title:
"PiPlanter 2: A Plant Growth Automation System"

Awarded $1,295 for his pursuit.

Katie Picchione - Albany, NY

Attends Worcester Polytechnic Institute in Worcester, MA studying Mechanical Engineering

Prize for Achievement recipient for her rainwater harvesting work in Guatemala.

Awarded $1,000 for her accomplishments and service.
---
---
MISSION STATEMENT

There is no greater determinant of one's quality of life than their education.

While no edict is without exception, today's knowledge driven society exhibits this rule more than ever before in history. Recent advancements providing access to information and global resources have thrust this new paradigm upon mankind. As such, our future progress hinges largely on today's educational practices.

Humanity has a new mandate to ensure that all adolescents recognize and respect that their most valuable commodity is their education. Furthermore, it is the obligation of society to contribute to the educational process by creating a culture and allocating resources in a way that defines education as its top priority. An investment of effort to instill these values in the community will have a profound effect on the achievement of our youth.

However, there exists a need in the education of our youth, and thus in the their development, that the structure of the current K-12 school system is unable to foster. Periodic grading and yearly level changes have forced curricula that consist of short term tasks that repeat cyclically with increasing difficulty. This is neither a good model for the challenges they will face in adulthood or of the problems that humanity must solve.


The mission of the Kurt Giessler Foundation for Youth Achievement is to support youth in generating and achieving long term ventures by providing the resources necessary to reach those goals and creating a reward system that acknowledges those who succeed. - Kurt Giessler December 3, 2010

---